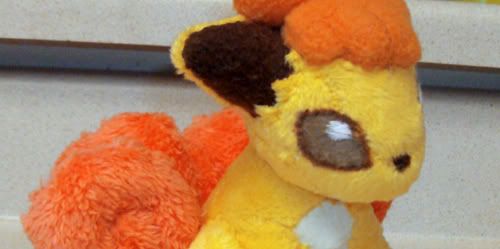 New plush yet again! This one sparkles. *w*
I am too lazy to re-size all these pictures so just click on any of the images for full view.~

OoOoOoOooOoh! Everybody LOVES shiny Pokemon!!!!




AUGH! This plush! I've been procrastinating on this plush for SO long. She was a limbless body for months, its really odd since I try to complete my plush without breaks, just start to finish but not with this foxy. X_X She was a different story for some reason. Its weird when that happens with certain projects.


GAH! Now I know why I procrastinated......those damn tails! 6!!! *Shakes needle wounded fist*




I really wanted to recreate the Vulpix Canvas plush but ended up making some alterations. *I just wanted to make her eyes bigger*


I even gave her her cute little paw pads and smile. :>


Here she is with the Vulpix canvas. Shes a hair taller than the original and again, I wanted to make her eyes bigger. :> Even though she was a strain to FINALLY get done, I'm happy with her.
YES! I did it! I now have 5 plush to auction off this month! Be sure to keep an eye out for the auction post on the comm sometime tonight or tomorrow. Phew, I'm all plushed out for now, I'm going to work on more art commissions for the rest of this month......unless I get struck by inspiration...or a new poke.